What's New/Recent Activities of HKAS
09 Jun 2020
World Accreditation Day 2020 – Accreditation: Improving Food Safety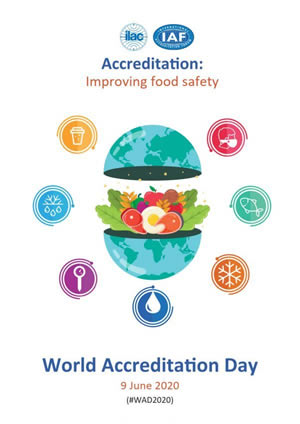 The World Accreditation Day (WAD) is a global initiative established by the International Accreditation Forum (IAF) and the International Laboratory Accreditation Cooperation (ILAC) to promote the value of accreditation. It takes place annually on 9th June, and is celebrated by ILAC and IAF members in over 100 economies around the world.
This year, the theme of WAD focuses on how accreditation and accredited conformity assessment activities enhance the confidence of consumers, suppliers, traders and regulators in the quality and safety of food. Accreditation ensures competent and impartial testing, inspection and certification services in all parts of the food supply chain. Accredited conformity assessment activities also contribute to the prevention and treatment of the adverse effects of unsafe food.
The below video and brochure, co-produced by IAF and ILAC, illustrate the important roles that accreditation plays in improving food safety.
HKAS invites conformity assessment bodies and stakeholders in the testing and certification community to join us in celebrating the World Accreditation Day on 9th June.