What's New/Recent Activities of HKAS
28 May 2021
World Accreditation Day 2021 – Accreditation: Supporting the Implementation of the Sustainable Development Goals
9th June every year marks the World Accreditation Day (WAD), a global initiative established by the International Accreditation Forum (IAF) and the International Laboratory Accreditation Cooperation (ILAC) to promote the value of accreditation.
This year, the theme of WAD focuses on the use of accreditation in supporting the implementation of the United Nations Sustainable Development Goals (SDGs). The SDGs are 17 goals adopted by the United Nations as a universal call for action to end poverty, protect the planet and ensure that all people enjoy peace and prosperity by 2030 (sdgs.un.org/goals). Accreditation helps meeting these objectives in many ways, including through facilitating trade, addressing health and safety concerns, promoting environmental awareness and improving the general overall quality of output in an economy.
IAF and ILAC have produced a brochure for this year's WAD to highlight worldwide examples of the role accreditation plays in supporting the implementation of the SDGs.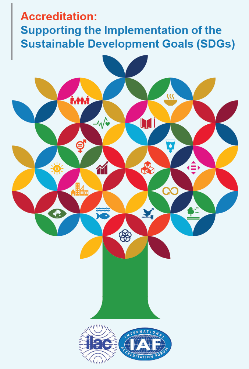 Three videos, in the themes of People, Planet and Prosperity, are also produced to introduce how accreditation supports the SDGs in these three aspects.
People: https://youtu.be/qqViC-qA6Ww
Planet: https://youtu.be/J9N7Hn5tUV4
Prosperity: https://youtu.be/7lPF2pSV1Vk
HKAS invites conformity assessment bodies and stakeholders in the testing and certification community to join us in celebrating the World Accreditation Day on 9th June.