What's New/Recent Activities of HKAS
1 June 2022
World Accreditation Day 2022
9th June is the World Accreditation Day (WAD), a global initiative established by the International Accreditation Forum (IAF) and the International Laboratory Accreditation Cooperation (ILAC) to promote the value of accreditation.
This year, the theme of WAD is Accreditation: Sustainability in Economic Growth and the Environment. Accreditation, alongside other quality infrastructure tools including metrology, standardisation, conformity assessment and market surveillance, promotes the shift to more sustainable forms of production and economy (e.g. circular economy). Accredited conformity assessment activities provide assurance that organisations are fulfilling regulations and requirements for environmental protection and sustainable development.
IAF and ILAC have produced a brochure for this year's WAD to highlight worldwide examples of the role accreditation plays in supporting the environment and sustainable growth: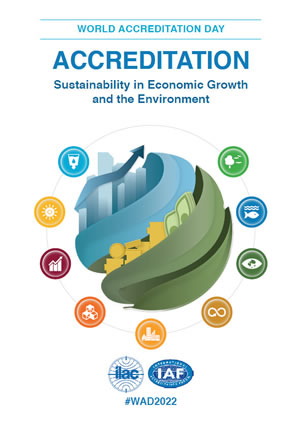 A video introducing this year's WAD is also available:
https://youtu.be/WmvYvV0X6uk
Besides, IAF and ILAC will be holding a virtual WAD celebration event on 9 June 2022 at 16:00 (08:00 UTC). If you are interested, please register via the following link:
https://us02web.zoom.us/meeting/register/tZIkdOygrDItH9NqJzbmxzp-iEL3xDX1jahn
The Asia Pacific Accreditation Cooperation (APAC) will also host an online WAD webinar at 19:00 – 21:00 (11:00 – 13:00 UTC) on the same day. You may join via the following link:
https://tinyurl.com/2krh4w64
(Passcode: 513072)
HKAS invites conformity assessment bodies and stakeholders in the testing and certification community to join us in celebrating the World Accreditation Day on 9th June 2022.
#WAD2022