Accreditation Services
The Hong Kong Laboratory Accreditation Scheme (HOKLAS)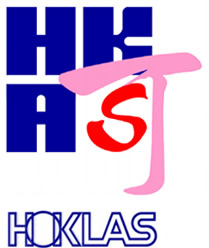 HOKLAS is an accreditation scheme operated by Hong Kong Accreditation Service (HKAS). The scheme is open to voluntary participation from any Hong Kong laboratory, proficiency testing provider, reference material producer that performs objective testing and calibration, provision of proficiency testing and production of reference material falling within the scope of the Scheme and meets the HOKLAS criteria of competence.
Accreditation is recognition of the capability of a laboratory, proficiency testing provider, reference material producer to perform specific activities and does not guarantee individual results or equate with product certification. Organisations accredited or seeking accreditation under HOKLAS are required to have their testing and measuring equipment regularly calibrated by a competent calibration organisation to establish metrological traceability to the International System of Units (SI). The Standards and Calibration Laboratory - The Government of the Hong Kong Special Administrative Region has been accredited by HKAS as one of such competent calibration organisations capable of providing the necessary metrological traceability.
It is the responsibility of the user to specify test methods, where necessary, after discussion with the accredited organisation. HKAS does not dictate tests or rule on relative merits of test methods.
HKAS accreditation services are classified in accordance with test categories, test areas and reference materials. Accreditation services currently available are detailed below:
HKAS will provide new accreditation service from time to time. For details of tests and calibration and reference materials covered, please contact the respective accreditation officer.
HKAS also provides accreditation service to support Hong Kong laboratories to participate in overseas testing and certification programs. Currently, such supporting service is available for the following:
For more details, please check the above titles.
An organisation interested in joining the HOKLAS scheme should contact the HKAS Executive to obtain the necessary documents. The accreditation process is detailed in our website "Obtain Accreditation".
HKAS accreditation is granted for specific activities. An accredited organisation is allowed to issue HOKLAS endorsed reports / certificates only for tests and calibrations and reference materials which it is accredited. The organisation may carry out other activities for which it does not hold HKAS accreditation, but if it wishes to include the results of such activities on a HOKLAS endorsed report / certificate, approval from the HKAS Executive must be obtained. Such activities will have to be clearly marked as non-accredited.
Users of HKAS accredited service or reference materials should note that because accreditation of organisation for an individual test, calibration, reference material, or a range of tests or calibrations, may be granted, modified or withdrawn at any time, it is important to insist on that the results be reported in certificates or reports which are HOKLAS endorsed. If there is any doubt please check the current status of an accreditation with the HKAS Executive. Alternatively, the up-to-date accreditation status of a laboratory, proficiency testing provider or reference material producer can be found at "Accredited Category"
A HOKLAS endorsed report / certificate should contain the information shown below: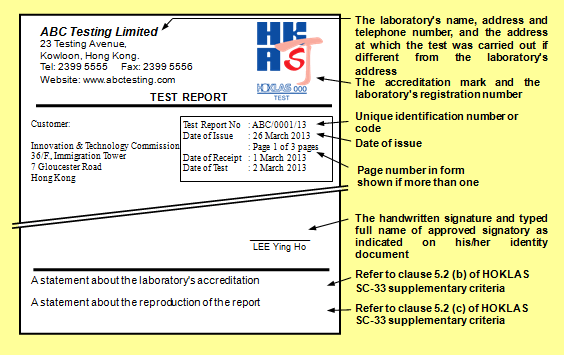 Specific recommendations for calibration and recalibration of selected items of equipment required by laboratories operating in the test categories for which HKAS accreditation are given in HOKLAS Supplementary Criteria No. 2. Where traceability to the International System of Units (SI) is required, the calibration is to be performed by a "competent calibration body"
Click here for the list of laboratories accredited under HOKLAS for specific calibration services.
Click here to access websites of MRA partners of HOKLAS (Accessibility to lists of laboratories accredited by MRA partners for specific calibration services will depend on the structure of individual accreditation body's webpage.)
To comply with the impartiality requirements in ISO / IEC 17011:2017, accreditation bodies, including HKAS, can no longer organise proficiency testing (PT) programmes. Laboratories or other organisations may search for PT providers and programmes offered in the Asia Pacific Region at the APAC PTP Search website. Information on other PT programmes is also available in the database maintained by European information system on proficiency testing schemes (EPTIS). Organisations are recommended to check with the relevant PT providers on their accreditation status before participation.